Tonight's game between the Sabres and Canucks promises to be an exciting one for two reasons:

1.) It's a matchup between the two members of the NHL Class of 1970 who don't get to see each other very often.

2.) It's a game between my favorite team and my favorite Western Conference team.

My feelings for the Canucks are hard to explain. Back when I decided I needed a Western team to follow, I noticed that I really enjoyed their games when they were on hockey night in Canada. Coupled with the fact that I knew they were "born" the same year as the Sabres, I decided to begin following them as my Western Conference favorites.
There are a lot of things to love about the Canucks. They have an awesome retro jersey: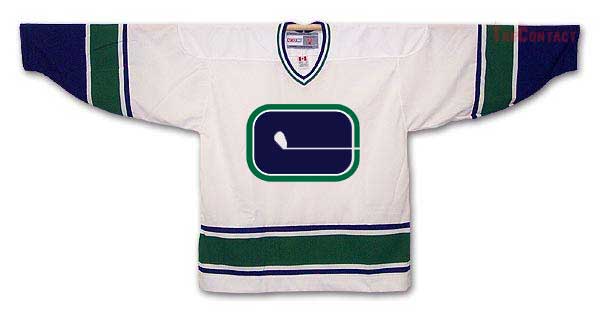 I just really like the colors for some reason
They have the Sedin twins on their team. I find the idea of twins playing on a line together almost unfair (having twin cousins I do believe in "twin telepathy") but still pretty sweet. I especially love when commentators describe their plays using their first names: "Henrik passed it to Daniel, then back to Henrik..." Yes, I am amused by the smallest things.
They're taking good care of Steve Bernier and Taylor Pyatt, making puckbunnies all over Buffalo sigh with delight.
Oh Big Bear, how we miss you and your adorably broken English.
Finally, the Canucks have given me the star player (so far) on my fantasy hockey team, Alex Burrows. Burrows is my favorite Canuck because he lives up to being a true mucker and grinder. He makes due with what he has, plays solid, two-way hockey, and he's a physical force:
He's not afraid to go toe-to-toe with anyone, and he's one annoying guy when he gets down to his game. I just hope he doesn't get under Captain Craig's skin; I wouldn't want Alex's pretty face to get destroyed,
In short, I like the Canucks a lot. However, I LOVE the Sabres. I hope we capitalize on how tired they'll be after beating Detroit in OT last night (with the game-winning goal scored by a certain #14). I feel that if we just stick to the game we've been playing, we can beat anyone on any given night.
Also, of course it shakes out that, because I desperately need to see this game for my own personal well-being, I will be unable to see it. I'll be at Shea's, hopefully getting updates on my phone whenever someone can text me them.
3-0 feels great, but 4-0 would be even better. Let's Go Buffalo!